Bengal's Lovebug
CH. Maibee Make Believe x Landolin's Frederieke
07/03/2012

"ZoŽ"


Breeders: C. Quintelier - R. De Leu, kennel Bengal's


Pedigree
UK CH. Maibee Make Believe JW
BIS Parent Club Show 2011/Top Winning Cavalier 2010, 35 CCís , 16 BOB, 6 RCC, Top Points Winner 2009 & 2010, UK Dog World Top Cavalier 2010, CKCS Club Top Male 2010





UK CH. Lanola Santana of Maibee
BOB Crufts 2009/BIS Parent Club Show 2009






Maibee Montrose
Top CKCS Sire '05 '07 '08 '10 '11


Craigowl Dixon
Maibee The Stand In
UK CH. /JW/ShCM Lanola Salsa
UK CH. Tameline Northern Dancer
Amantra Medici Del Lanola
Maibee Disenchanted


UK CH. Pascavale Enchanted
UK CH. Tameline Northern Dancer
UK CH. Britannia Of Pascavale
UK CH. Maibee Delicious
Maibee Lorphil Lagonda
UK CH. Maibee A Cameo
Landolin's Frederieke



CH. Maibee Hardy




MRI clear

UK CH. Keyingham Branwell
Top Dog UK '06 & '07, 44 CC's, 15 ResCCs
Maibee Montrose
Top CKCS Sire '05 '07 '08 '10 '11
Keyingham Fidgeon
Maibee Delores
Maibee Lorphil Lagonda
Rytonion Doris Day
Landolin's Lynn



CH. Sanickro Escapade
Sanickro Rob Roy McCoy
Sanickro Royal Jewel
Sonja van het Lamslag
Rexeven Jackpot
Jw Rishma van het Lamslag
Health Results
MRI-scan syringomyelia (2,87 jaar): gradatie: 0A - 0mm, CM2 (Dr. P. Mandigers) 19/01/2015
PSOM: geen (Dr. P. Mandigers) 19/01/2015
DNA curly coat/dry eye: vrij
DNA episodic falling: vrij
DNA profile registered (ISAG 2006)
Kleuren echodoppler MVD: gradatie: B (Dr. V. Bavegems, Merelbeke) 07/10/2014
ZoŽ of Bengalís Lovebug werd geboren in een nestje van 7: 3 reutjes en 4 teefjes. 1 reutje haalde het niet, maar de anderen groeiden voorspoedig op. Het was zeer moeilijk een keuze te maken tussen de vier teefjes en ze zijn dan ook lange tijd bij ons gebleven. Ons eerste keuze was lange tijd Love Desire, maar omwille van de vele sproetjes die ze had gekregen, ging onze keuze uiteindelijke naar Lovebug. Hoewel misschien niet een showhondje, hopen we met deze 2de dochter van Lena verder te kunnen. Ze heeft alvast een prachtige afstamming, dus we hopen met haar verder te gaan in de toekomst. Ze is het halfzusje van Jada, maar ook van Tilly natuurlijk en die twee laatste zijn onafscheidelijk. Omdat ze maar enkele maanden verschillen, zijn ze eigenlijk voortdurend bij elkaar te vinden. Ze zijn voortdurend aan het spelen of aan het rondrennen.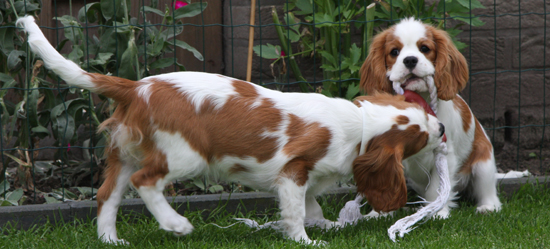 ZoŽ houdt de touwtjes stevig 'in handen'!