Landolin's Frederieke
CH. Maibee Hardy x Landolin's Lynn
14/10/2007

"Lena"


Breeder: P. Jordens, kennel Landolin
Lena is our first cavalier and was born in a litter of two: she and a tricolour male sired by the gorgeous Maibee Hardy. She can be a rather stubborn girl, but in her onw lovely way.
She loves to go for long walks: at virtually any hour of the day she would like to go out. She is quite fearless and goes tail wagging to every dog, no matter what size. She is very curious, a very good eater and always in the mood for a game: like fetching a ball. Although she likes to cuddle, this is only on her own terms: enough is enough. She is quite a character. Lena certainly has her qualities: she has a great pedigree which includes the famous Maibee Montrose as her great grandfather and CH. Keyingham Branwell as her grandfather, both top stud dogs. And of course not to forget: her grandmother Sonja van het Lamslag, who reached a very respectful age.
Pedigree
CH. Maibee Hardy



UK. CH. Keyingham Branwell
Top Dog UK '06 '07, 40 CC's, 15 ResCC's


Maibee Montrose
Top CKCS Sire '05 '07 '08 '10 '11
Craigowl Dixon
Maibee The Stand In
Keyingham Fidgeon
Nevhill's Nazareth
UK. CH. Keyingham Rowena
Maibee Delores


Maibee Lorphil Lagonda
Maibee McLaren
Maibee Indianna Rose
Rytonion Doris Day
UK. CH. Lymrey Royal Scandal of Ricksbury
Maibee Dame Edna Average
Landolin's Lynn



CH. Sanickro Escapade



Sanickro Rob Roy McCoy
Sanickro Made to Measure
Kaprisha T.O.T. of Sanickro
Sanickro Royal Jewel
Emsmere Royalist
Sanickro Amazing Grace
Sonja van het Lamslag



Rexeven Jackpot
Homerbrent Jeremy
Rexeven Emmeline
Jw. Rishma van het Lamslag
Benjy des Marliviers
Firoza van het Lamslag
Lena just born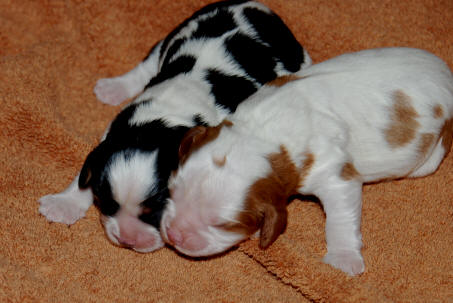 Lena as a puppy
The first days together with Eline
Playing
Health Certificate's
Heart: by colour echo doppler MVD: heart clear: grade: A (Dr. Aslani, Kleve) 23/07/2010
MRI-scan syringomyelia: grade: A (Dr. C. Rusbridge) 16/05/2010
Patella Luxation: none (Dr. A. Ruyssinck) 06/09/2010
DNA curly coat/dry eye CLEAR
DNA episodic falling CLEAR
DNA profile registered (ISAG 2006)
Puppyplans...
Lena had her first litter on the 1st of December 2010 by UK CH. Lanola Santana of Maibee. She gave life to 4 wonderful puppies: 2 males and 2 females. We kept one of the females, Bengalís Junebug, ourselves and we hope to continue with her.


| | |
| --- | --- |
| | |
| Walter (CH. Lanola Santana of Maibee) and son Hairy (CH. Maibee Make Believe) during our first visit | Walter |