Silk Essence at Kingsoak
CH. Storeyland Silk Ascot x CH. & NJK. Angel's Pride Jasmine
14/06/2009

"Eline"


Breeder: H. Kingham, kennel at Kingsoak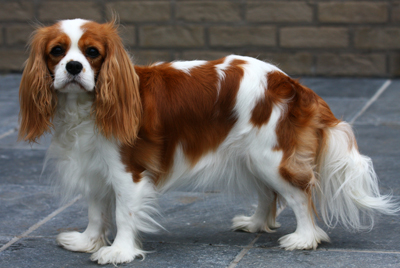 Eline

Eline is our second Cavalier. She was born in a litter of 6: 2 males and 4 females. 5 puppies of this litter went to breeders. Eline is a very typical, sound toy-spaniel with her large dark eyes and melting expression.
Pedigree
CH. CAN.-LUX. Storeyland Silk Ascot


CKCSC & AKC CH. Maibee Milan of Bentwood


Maibee Montrose
Top CKCS Sire '05 '07 '08 '10 '11
Craigowl Dixon
Maibee The Stand In
Maibee Madonna
Telvara Kavalkade
Maibee Jennilee
AKC CH. Grantilley Silk Stockings


Nevhill's Nazareth
UK CH. Cavaliegh Alexander
Nevhill's Narnia
Grantilley Runaway
Breidden Beach Boy
Grantilley Rickeya
CH. Angel's Pride Jasmine N.J.K.



CH. Sanickro Escapade



Sanickro Rob Roy McCoy
Sanickro Made to Measure
Kaprisha T.O.T. of Sanickro
Sanickro Royal Jewel
Emsmere Royalist
Sanickro Amazing Grace
CH. Angel's Pride Anastacia



UK CH. Miletree Nijinsky
UK CH. Tameline Northern Dancer
Miletree Evening Dream
CH. Timsar Miss Teeq
Linjato Ace of Base
Timsar Miss Jocasta
Eline enjoying the evening sun
She really likes to cuddle...

or take a quick nap on the couch
She always needs to be cuddled and she constantly has to be around us. She can lay perfectly still, just relaxing while she is being cuddled. Although she is less courageous and sometimes a bit hesitating when something new happens, eventually she will overcome her fear, because her curiosity always wins.
She is tireless, full of energy and always in the mood for a game of tag with Lena or Jada!
Just like mommy Jessy (Angel's Pride Jasmine) Eline is a real Ďtalkerí. She mumbles something that resembles barking but with her mouth closed. Itís always funny when she does that. She is very nosey and likes to sit in front of the window staring outside for hours.
Enjoying the spring sun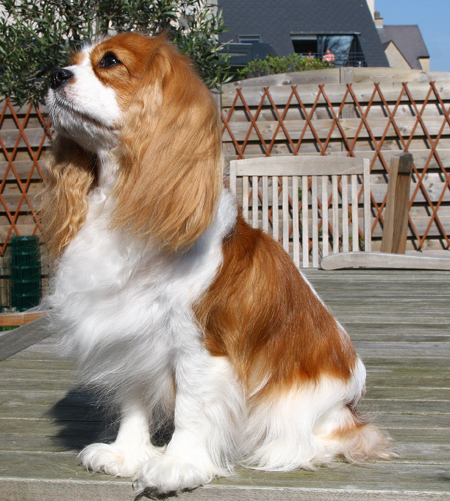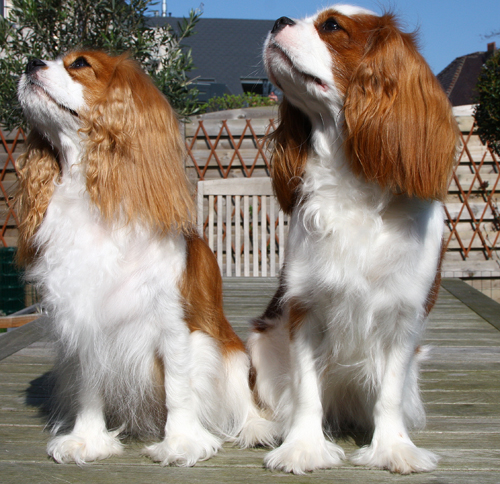 Eline and Jada
Playing
Eline as a puppy